The Simba story
Our history is driving us towards an exciting future.
Like our founder Anil, Simba has grown from embracing new opportunities, giving more than receiving and making a positive impact on the lives of others.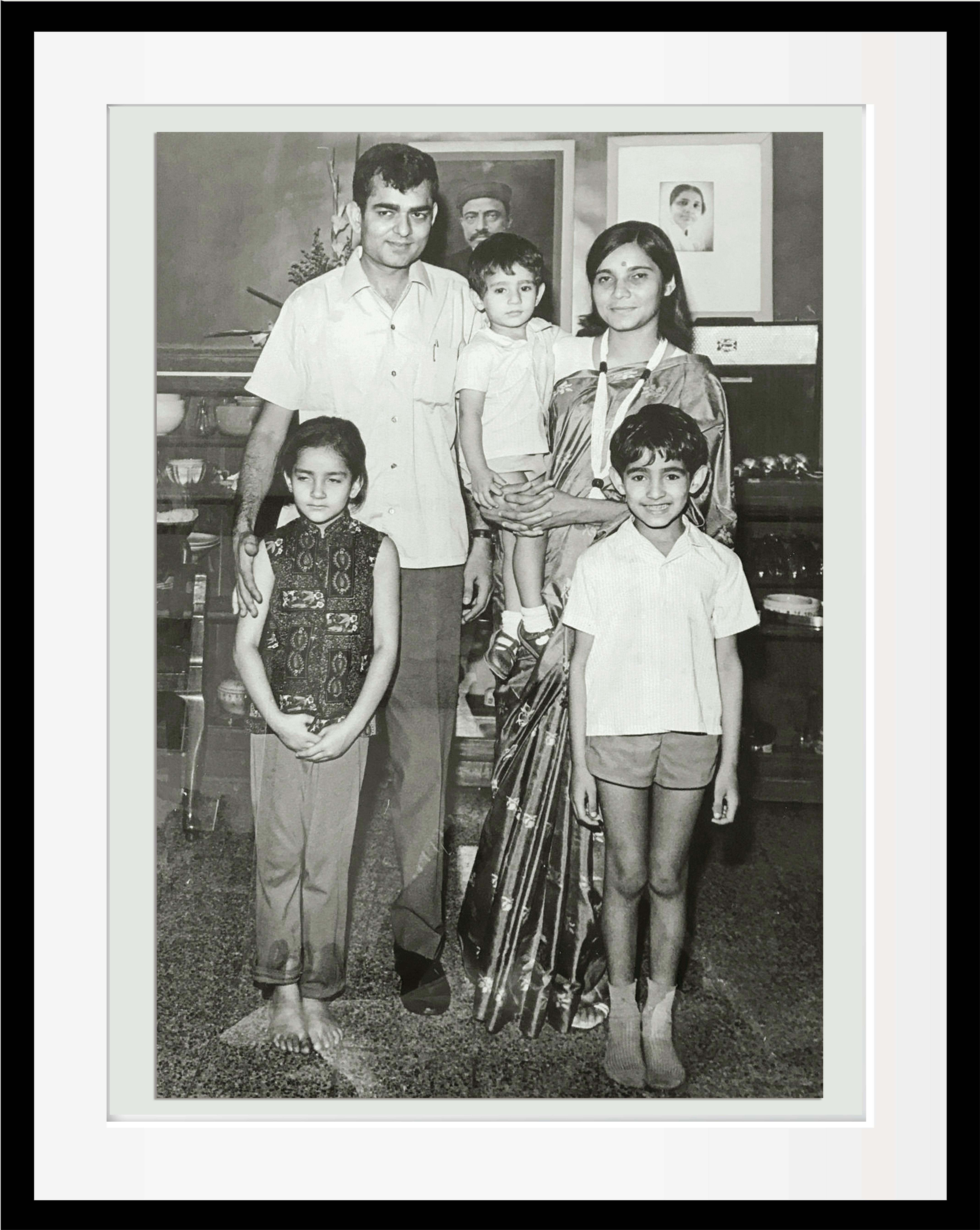 A business that began from a tiny hatchback car, selling door to door, small business to small business.
An introverted shy man, who was more comfortable in the role of an accountant behind a desk, now selling salon towels to hairdressers. A stranger to a country and its culture. A man who had never sold anything in his life. He will teach generations to come that the quality of your life is directly related to how much uncertainty and discomfort you can handle.

In 1955, Anil Somaia, a young 19 year old boarded a boat in Africa bound for England to study at university. With only five pounds in his pocket, he didn't know where he would stay when he arrived, what would happen when his money ran out, or when he would see his family again. However, the one thing he did know, is that he wanted to expand the vision of who he could be, and he was prepared for the uncertainty that lay ahead. The vision he had for himself, would become a story passed down and around, so that every person who heard this story would understand that each and every day we are provided with choices and chances that will determine our destiny. Today, Simba as a culture and as a team dare to dream. Like Anil, they demonstrate behaviours that inspire others. Each and every day they choose to step up.

On a trip to Mumbai shortly after finishing his university studies, Anil met an exuberant and adventurous young woman named Zarna. They decided to build a life together. With their wedding rings in tow, Zarna came on a ship to London. Together, they would bring three children into the world — Hiten, Lina and Kamal.
A coin toss led Anil and Zarna to make a move to the land down under. When Anil arrived in Australia in 1973, he secured an accountant position at a swimwear company, while Zarna and the children arrived six months later. The family arrived with nothing, but Australia provided them with many new opportunities and each one was warmly and graciously embraced. They worked early to late to make ends meet. They were frequently supported by their friends who would help to take care of and share meals with their children. Feeling immensely grateful, Anil and Zarna would pay this forward, and extend this form of love and support to everyone that needed it. Even though life was a still a financial challenge, they always offered a home and support to any visitors and family who needed it. This value exists at Simba today. Every person and organisation connected with Simba is a part of the Simba family.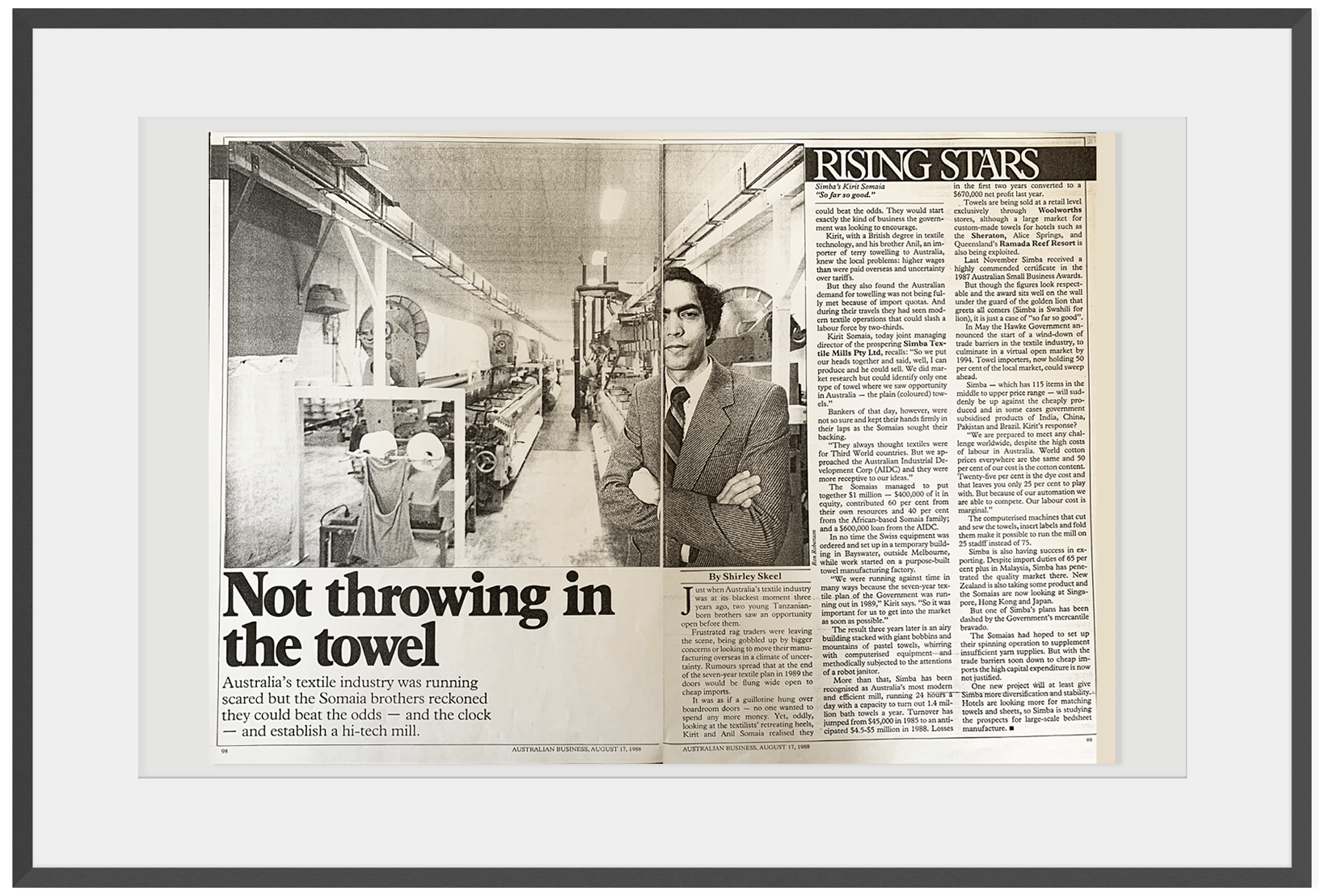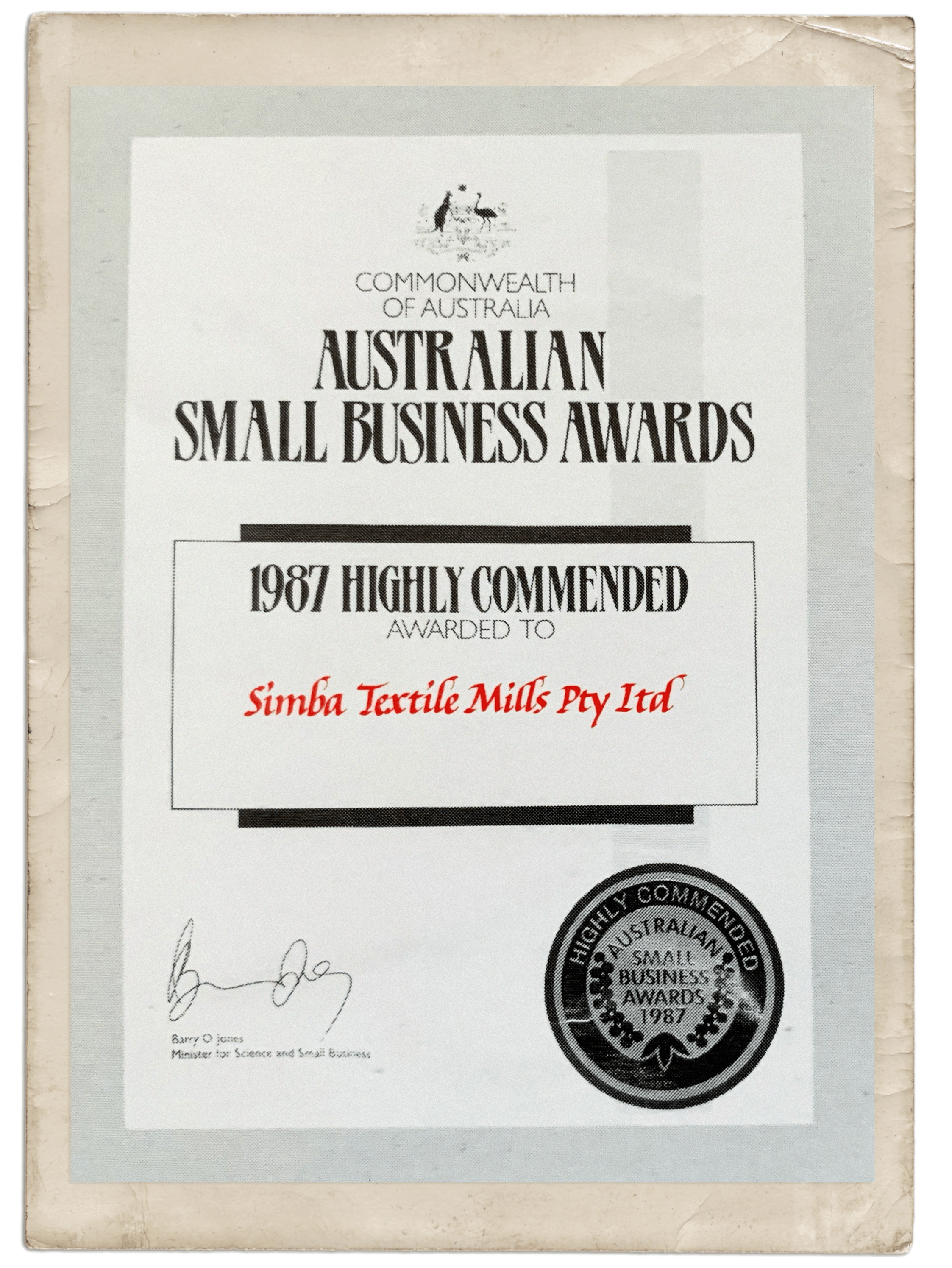 There is an old African saying 'The luck that you have in your house is brought to you by a guest. You don't know which guest, so you look after them all'.
Anil worked as an accountant until 1976, when at 41, his role was made redundant due to a company merger. With encouragement from Zarna, Anil began a business with a friend where the duo bought items at liquidation auctions. At one of the auctions, they purchased a large quantity of Egyptian henna which, while popular on an international scale, was a relatively new product in Australia. However, it provided a unique offering to hairdressers as hair dye, and they soon built a strong network of salon clients across the city.
The Somaia's tradition of offering support whenever possible was demonstrated again in 1977, when a stranger named Bipin Doshi came into their home and helped to shape their destiny. Bipin represented a towel manufacturer in India and on his departure he offered Anil the opportunity to be the manufacturer's sole Australian agent, in acknowledgment of the kindness and generosity he had received. While Anil was initially hesitant, as he hadn't had direct textile experience, he recognised that he could expand his current offering to his salon network through the supply of salon towels.
There is an old African saying 'The luck that you have in your house is brought to you by a guest. You don't know which guest, so you look after them all'. To us at Simba, this saying is an anthem. In the Simba family, our guests include suppliers, staff, clients and partners. We know that each and every one of them makes our family stronger just by being a part of it.
Now, the next generation has taken the reins to deliver greatness.
Anil who never held a title and allowed his actions to be the voice of his leadership, now stays on as master storyteller. Hiten, the oldest sibling, sits as executive chair. Hiten's leadership actions are seen in the strength of all the relationships Simba thrives on. Kamal maintains his focus on the future in his role as Managing Director. Always curious, always seeking to bring transformation to why Simba exists, how Simba will do things and strengthening what Simba stands for. While Lina draws on her raw talent of leading learning and education transformation for students, teachers, parents, and government in India for many years, to strengthen Simba's greater purpose with 'Simba Conscious'. Looking beyond ethical practices, Lina will explore and advance the many ways in which Simba's existence is making a difference in the world.
There has never been a more exciting time for Simba Global. We look forward to you helping us create the next chapter of the Simba Story.